Helo, helo, helo!
Wazzup everybody?!
Kak Fifi is soooo happy!
Happy banget!
TERLALU HAPPY!

Nak tau?
Kak Fifi baru lepas habis tengok...
NEW MOON!
The Twilight Saga: New Moon.
Yeahhhhh....!!!!!
Walaupun tak release agi kat Malaysia,
Kak Fifi dah dapat tengok...
Cewaaaahh... Ahax.

Touching betul cerita dia.
Hampir je nangis, tapi tak jadi.
Hehehe.
Jacob Black looks so handsome!
And of course, Edward is much more handsome than everybody else!
Also, Emmet the grizzly bear; the coolest of them all!

One of my favourites aside from Edward, Jacob and Alice.
Alice looks very cute...
GO ALICE!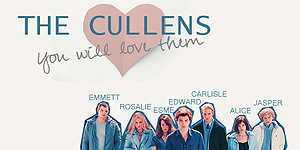 Awesome, great and 10000+ stars!
Hohoho!
And to all: Sorry, I didn't reply your messages or IMs tonight. I'm busy with NEW MOON, alright!
Hahahahahaha.
Obsesi pulak dengan New Moon Kak Fifi hari ni.
*angkat-angkat kening*

Oh yeaa...
Itu malam tadi.
Petang tadi Kak Fifi tengok cerita best jugak.
Tajuk dia; The Clique.
Cerita dia budak-budak yang berlakon.
Not really budak-budaklah,
teenagerslah jugak. :)
Okay.
Kak Fifi asyik story pasal movie je sekarang, 'kan?
Well, online pun, bukan ada manusia online.
Nak kata pergi melancong, entahlah...
Kejap ada, kejap tak ada.
And YM laptop ni pulak suka buat hal.
Time orang ramai online, mulalah dia meragam.
Eish~ Tumbuk baru tau!

Okey, okey, okey.
Tak tahu nak cerita pasal apa lagi.
Dalam kepala Kak Fifi sekarang hanya satu;;
New Moon.
New Moon.
New Moon.

Totally obsessed!
Oh! One more thing in my head.
Edward Cullen.
Edward Cullen.
Edward Cullen.

Memang dah lama obsessed dengan EC.
Hahaha. Pape jelah.
Sekarang, nak tidur. Dah lewat malam.
Tunggu abang balik esok nih.
Lusa abelong balik, insyaAllah.
Yayayayayaya....
NEW MOON! Nak tengok lagiiiii....!

Oh. Nak promote skit.
Jemput ke blogg adik-adik Kak Fifi yang disayangi.
Nurul Sabrina Syarfa
Nur Alya Aqilah
Nurul Atiqah

Tu je.
Yang Azeeb tak payahlah.
Mengarut je banyak. Hohoho!
So, takde cite sangat.
Boring seyh.
Daaaaaa~~

Wallahualam.