freshly .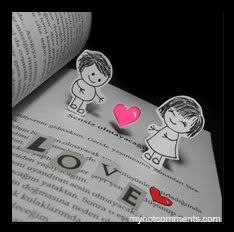 Aku tahu lately picture post aku agak takde kaitan dengan ape yang aku nak cerita .
Ahh , tak kesahlaa . Gambar tu kiut , aku letak laa buweekkk

;ppp
* eh gediknya gediknya gediknya !! *
Okay maaf.
I'm starting to annoy people around me as I watched the Annoying Orange on Youtube last night .
I hate that orange - but still , I watched it today .
DERR .
Okay fine aku tak teruskan projeKt sebab aku tak tahuu nak tulis apa untuk fiction book pa semua tu.
So I'm waiting for Mai to get started first because she created the projeKt .
And I will be very busy tomorrow tomorrow and tomorrow

* ye , aku memang selalu gune puisi William Shakespeare *

.
See ? Memang aku dah jadi annoying macam orange dahh .
Eh chopp ! I'm not the

annoying orange

.
Aku suka apple . The way orange said

" Hey Apple, "

...love it !
Alya is the real annoying orange

xDDDD
* awok dokleh maroh saye sebab saye tengoh promote blog awok AHH !!! *
Okay sekarang aku dah active dua-dua Blogger and Tumblr .
Means tak pilih kasih dah lepas ni .
Sebelum ni aku lebih-lebihkan Blogger sebab English aku agak sengkip sebelum ni .
Aku kena stretching dulu baru boleh berEnglish .
Kena baca novel English dulu - baru ada vocab dan ayat yang power .
And aku baru je lepas baca The Short Second Life of Bree Tanner , remember ?
Dan habis final exam , akanku khatamkan terus buku Fallen dan Torment .
Yeee , memang aku minat buku bersiri ni .
Kalau boleh buku Bree tu pun aku nak ada sambungan .
Tapi dah nak buat macam mana dah Bree sendiri dah mati kena bakar LOL
Stephenie Meyer dah tak tahu nak tulis apa kalau Bree hidup dalam keluarga Cullen .
That was why Bree was vanished from the whole story .
Dah dah takyahh tanya banyak-banyak .
Beli sendiri lepas tu baca .
Hari tu masa first time beli ada discount kott .
LALALA ~
Alahaii , cepatlah final exam .
Cepatlah habis .

* and dapat good results *
Nak baca Fallen niii !
Seriously , menyesal sebab tak baca awal-awal beli hari tu .
Haa , kan Torment dah keluar .
DERRRRR !
BAII .
Wassalam .
p/s : will be less updating

* said it again LOL *

because this Saturday ada kenduri abang aku so a little bit busy :) till then guys