Missing everything, man, this is good!
By Fifiey Azmi - April 09, 2011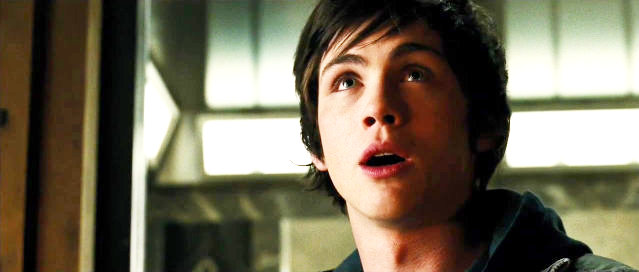 Assalamualaikum peeps!!!
I've missed youuuuu!
Surely not the guy in the picture, 'cause seriously I'm so not into that series. Oh, the Percy Jackson series. I didn't know that it had been made into a big screen. I saw the posters somewhere in Kuala Lumpur..and that was when I knew
:D
I went to KL to buy some books and novels, but apparently everyone already knew I was going there to buy novels, not just some, plenty of them
XD
Seriously, I had bought, about 10 novels if you round off the real number, well, it's nine. Yes, I bought nine novels.
City of Fallen Angels (CoFA), sequel to The Mortal Instruments series was released on the 5
th of April 2011
, but not in Malaysia. I asked the worker at the Customer Service section about how long will it take for a book to be released in Malaysia (if it's international) and she answered,
"Well, about one or two months. The fastest time they can is one month."
Not a happy information for me, then.
Finally, CoFA was blacklisted for a while. There were still some more books on the list, like I Am Number Four, The Hunger Games series and Vampire Academy (the first and second books). At last, I bought all of it except for the second book of Vampire Academy series. There were no stocks for it
T.T
Damn it 'cause I came all the way to KL just to buy this!
But it paid off when I saw the book ANGEL by LA Weatherly. Here's the cover.
I don't usually like book cover with people on it, but I was REALLY trying to not judge the book by its cover. Yeah, I read the synopsis at the back of the book and it caught my attention. I hesitated for a moment, thinking if buying it would enlighten my mood or not. Then it was time to pay when I snatched the book and put it in my basket
XD
Oh then my eyes went wild around the shelves and found this...
Ah, well, there is still a person on the cover, but never mind that. She looks like a doll, like Dakota Fanning, yeah, reminds me of a witch. Wait, Jane WAS a witch, right? If you ever read the Twilight series. Well, whatever
:P
Then, Vampire Academy was the last book I could think of buying, but I bought it too. I wanted to buy the collection of book one, two and three, but...no stocks. I asked the worker, she said there were two books left and she asked her friend to look for it.
She brought the one that was damaged.
The other book was BADLY damaged.
Lucky me, I got a discount of 30% because the book was damaged. And urm, partly because I told her before that I came to KL just to find novels, partly because, well, the book was damaged. But still I can read it and just finished it this evening
=="
.
Oh yes, my dream book, well not on the top list, but the second one! I Am Number Four. The first bookstore I went said the book was in the warehouse. They wouldn't take it for me
T.T
Ah well, I asked my sister to go to the second bookstore and they were very kind-hearted to rummage the warehouse for me! YAY!
This is not the cover of the book I bought, but I couldn't find the real cover on the Internet. The worker gave me two covers, one of Alex Pettyfer on it, the other one with, sort of the image of galaxy (like above) but with the blue black mixture. No orange.
Then I tuned one of the last pages, and found out that Number Seven is a girl named Fifiey Marina.
Hey, I'm number seven in the family!
:P
Oh and because of Alex Pettyfer
* sniff sniff *
, I bought this too. Thanks to him
=="
I don't get it why is Pettyfer starring with older actresses? I mean, there are a lot of girls with his age out there. And I really don't like Vanessa Hudgens and Dianna Agron, grr, for no reasons apparently
:D
Ah well, I don't like them pairing WITH PETTYFER! (!!!)
Yeah, I bought this too, except with a different cover. The director of Twilight, Catherine Hardwicke received a script about the movie and then she asked her friend to make a novel about this. Then, CHardwicke directed the movie
:D
Bella's father, Charlie a.k.a Billy Burke is playing the role of the heroine's father in this RRH movie, Valerie. And Shiloh Fernandez (as Peter, Valerie's boyfriend) and Max Irons (as Henry, who is betrothed to Valerie) are the two heroes. And Shiloh is kinda scary, while Max is cute to the MAX!
:D
Oh please, speaking of Max, makes me remind of Max Lightwood in The Mortal Instruments. Oh man, don't ruin this mood!
Ah yes, I'm working on this novel (Red Riding Hood). Although I already knew the plot, because I read it on Wiki several weeks ago
XD
Don't forget these! Finally, finally! It's not about vampires, werewolves, angels, demons bla bla bla all that stuffs for the first time. But, well... It's fiction and when we say fiction, it's not even real.
T___T
Still in fiction mode. No change for that
XD
Oh man, I'm a huuuuuge fan of novels right now. Please ignore me
:P
Ahh, that's all I will be talking about the books.
HAHA
School's starting tomorrow. It feels like I had left Terengganu for years
T.T
Kuala Lumpur is a very busy city. City of Kuala Lumpur? Yeah, sounds not-so-perfect-book-title for me. But you can write a story about it, if you know how to plot one
=="
Plus, what series would it be in? The Malaysia? Consists of 14 books, then
:D
what am i babbling aboutttt
Err, my classmates are planning to hold a sale for this upcoming Usahawan Muda Festive. I don't know, I can't decide. I'm just counting the money. Besides, I'm not so interested in business. Yeah, not at all a businesswoman type. I'm suffer-in-silence type, that's all.
* sniff sniff that type is similar to someone :P *
Oh and I saw Kim Hyun Joong on The Faceshop poster at Mid Valley. I was like
>.<
and screaming without words to no one!!! But then I forgot about it as I'm not obsessed with him anymore. I continued walking -- ignoring the big picture. Well not so big after all
:P
That's all for today. I felt like I haven't blog for thousand decades! Yeah, really miss this blog!
Wassalam.
BAII
pssstt...
I'm not going to update
my Tumblr anymore.
Blogger is enough :)